Hospitality is an ever-changing industry, one that has adapted itself to the culture of each time period. Being at the front of the pack when it comes to traveling and hospitality trends is one of the things that can make the difference for your hotel, by having your finger on the pulse of what travelers want you can keep your rooms booked and your guests happy.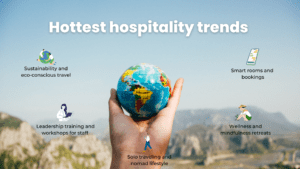 How to recognize a hospitality trend?
Trends are popular movements in anything from fashion to food and hospitality. They are the manifestation of a group's wants and likes. When it comes to hospitality trends they can include the way guests want to travel, and be treated, how to better train hospitality staff, and changes that both guests plus hotel workers want.
If you want to keep your eye on new hospitality trends then pay attention to these clues:
What are guests asking for when they book the hotel?
What are travel bloggers posting about?
Who is traveling most?
What events attract the most guests?
What features do your guests compliment the most?
Sustainability and eco-conscious travel
A 2018 Booking.com study found that 87% of travelers wanted to travel sustainably, now that's a huge number of people you could be attracting with just a few changes to your hotel. Eco-friendly changes don't need to be drastic or expensive, you can start making your way towards sustainability with a few smart and effective choices.
Partner up with sustainable brands for your toiletries
Manage waste in a sustainable manner: recycle, compost, and reuse what you can
Include a vegan option in your menus
Change your appliances and electronic devices for energy efficiency models
Leadership training and workshops for staff
Great hotels are built from top to bottom, it all starts with directors wanting to have great hotel managers and then creating amazing staff teams that ensure guests' satisfaction. That's why programs like hosstinn's leadership training are so important to include in your planning.
Investing in leadership training can help you answer trends and satisfy clients' requests in a short period. The same thing happens with training for staff, having a team that knows what to do and how to respond to guests is going to improve the quality of your service, and the ranking of your hotel.
Training for leadership and staff is an incredible tool to satisfy trends and elevate your hotel in every way.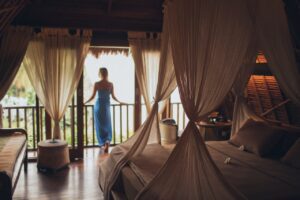 Wellness and mindfulness retreats
The Global Wellness Institute, a US-based organization that studies the wellness industry, predicts the wellness traveling market will grow to an incredible 20,9% per year and reach $1.1 trillion in 2025.
This growth in wellness traveling is linked to a growing awareness of mental health issues, one that has accelerated as we went through a pandemic and strict isolation in many parts of the world, including most European countries. The aftermath of these events has left people wanting to care for their psychological health and find travel experiences that can help them do that.
Including mental health and wellness-focused activities, packages or travel plans in your hotel's offering can help you attract this new type of traveler looking for peace of mind and healthy experiences.
Smart rooms and bookings 
There has been a nonstop demand for technology for most of the 21st century, as guests have experienced advances in their day-to-day life they also expect to see those, and more, in hotels.
Having smart appliances, connected rooms and a few interesting gadgets can increase the standing of your hotel in the eyes of prospective guests.
Another important aspect is making your booking process an easy and straightforward deal, one that can be done online through an app or your website. In this case, it's advisable you invest in a good interface so you can keep guests engaged and make sure they follow through with booking a room.
Solo traveling and the nomad lifestyle 
Remote work has taken over many industries, with most companies now offering workers flexible work situations or even fully remote positions. This phenomenon has created a rise in the nomad worker and solo traveler lifestyle.
These digital nomads are exploring the world thanks to new freedoms, they travel constantly and work whenever. This is one of the fastest-growing trends on this list and one we see lasting for a long time
What can you do to attack digital nomads? 
Offer spaces for working, add perks to make them more attractive like coffee, snacks, etc
Guarantee a strong internet connection
Advertise within remote working groups and communities
Offer special deals for longer stays
Help them connect with the locations and local communities
Want more hospitality tips and blogs? Read our blog at https://hosstinn.com/blog/