Quality is everything for a hotel. The higher it is the more positive reviews, better ranking, more word of mouth, and increased bookings. Delivering constant high-quality service however requires a lot of work, dedication, and preparation. The best hotels did not books the quality of service by chance, surely hours of effort went into the high functioning establishments we know. 
Two necessary elements for having that standard quality of service permanently are persistence and commitment. Once you achieve the level you want, you'll need to work to keep it. So, it's a great idea for hotel management to know the way in which they can boost service effectively, in the short and long-term strategy.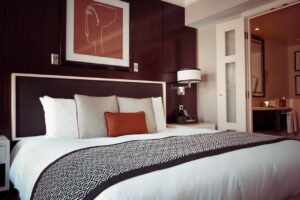 Get to know guests
Discovering more about your guest can be a great way to anticipate their needs and better respond to their requests. If time allows, consider striking a conversation with guests or telling staff that this should be part of their interactions. Another strategy is to send some questions in an introduction email. Ask about special requests or needs before they arrive, so you can make their stay a wonderful experience.
Be inclusive 
The biggest takeaway from this should be that not all guests are the same, and anticipating their needs can be a great way to create positive reviews for your hotel. It also helps you to prepare to be truly inclusive to people with disabilities and other conditions who would otherwise not have their needs met.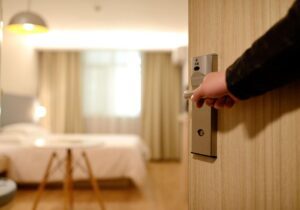 Make training a permanent feature for staff
The hotel industry is always moving forward, introducing new technology, and increasing standards. So, keeping up with demands is only possible with training. Your staff needs to be able to rely on management to figure out the best ways to keep them updated on skills and industry knowledge.
Having a trained staff keeps the quality of service high and always improving. Training also makes it easier to implement standardization and keep guests happy.
Make hotel training accessible 
One of the most efficient forms of hotel training is online education tools. Digital hotel training platforms like hosstinn allow staff to learn from different locations, at various times and get guidance from industry professionals from all over the world. Making training more flexible encourages hotel personnel to take part in it, and treat it as a great growth opportunity. Plus, it can cut training costs for the hotel.
Encourage feedback
There is no improvement if you don't know where you are doing things wrong. Getting feedback, good or bad, is going to be a key guideline on the road to providing great service in your hotel. You can implement surveys or rating cards for guests to make their evaluations and suggestions. Guests have first-hand experience that will be very useful to your goals, they can point out details you have missed or give you ideas for making the service even better.
Look inside for clues
Another group you need to get feedback from is your staff. Employees often have insight into how simple changes can make things run more smoothly. Keep these surveys anonymous for the sake of privacy and to encourage workers to participate.
Stay updated on technology 
Technology can make your work so much easier and there are tools being developed every day. From online training to automating tasks, tech is the way to simpler processes and more time to focus on what matters, quality service. Introducing technology makes staff jobs more manageable, standardizes quality, plus gives the hotel an updated and modern image.
Improve guest experience with technology 
Technology is the driving force behind many of today's needs. Guest's just like you are using technology to work and go about their lives, so they expect to have those needs met by hotels. Adapting to new times can make your hotel stand out and become a favorite stay for more guests. Providing them with updated amenities can make all the difference when it comes to choosing where to stay.
Get local knowledge 
Guests usually need guidance about the area they are staying in. Being able to provide accurate, detailed directions and suggestions will make you stand out in customers' minds. This is why getting familiar with the surrounding neighborhoods, shops, and culture will be an important boost to the quality of service. If you can provide your guests with authentic experiences of local food and customs you will be adding a unique characteristic to your hotel. One that guests greatly appreciate and keep coming back for.
If you wish to boost the quality of service, register now to become an #Innsider.