In this volatile business of ours, we can ill afford to rest on our laurels, even
to pause in retrospect. Times and conditions change so rapidly that we mus
keep our aim constantly focused on the future. — Walt Disney
Why the newest player? What are we providing?


In simple words: We want to help reshape the relationship between the hotel, its Talents, and its Guests.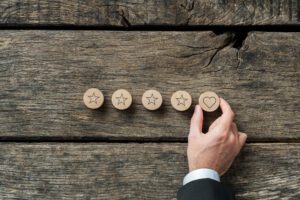 The idea behind hosstinn
hosstinn is the belief shared by its founders, that every hotel is capable of providing great service, all the time.
Granted, the idea of great service can be hard to define exactly and can vary from the person receiving the service to the person who is delivering it.
Some Hotel Managers or owners fail to realize that their perceptions may differ considerably from their customers, which can lead to miserable experiences for both.
One approach to look at service has been to compare it to a performance directed at satisfying the guest's needs.
Walt Disney used to remind his employees that they are to always act the way the guests expect them to act, not the way they may feel like acting.
We choose to define good service as meeting your guest's needs in the way they want and expect them to be met. Superior service should mean exceeding customer's expectations.
We go a step further and claim that not only that it can, but it must be done through genuine connections between all parties involved.
The Origins
Our careers have led us to go through different roles spanning from the lowest to the highest steps of the corporate ladder, on multiple continents.
Both founders have worked for international prestigious hotel chains, as well as independent hotels. They pride themselves on offering the highest level of service while taking care of their employees.
For most cases, the willingness to do so was real. However, the reality of hospitality operations makes it harder to implement the ideas that improve the day-to-day of the staff, while keeping the level of service necessary to create repeat and loyal guests.
The industry requires its members to be hard-working, passionate, and show genuine interest in the well-being of their guests. In time, if the employees are not valued correctly, it will create high turnover, lower employee engagement, and low motivation that undoubtedly impacts the service given.
Based on these observations, we have decided to stop complaining and do something about it. Hence hosstinn. We are committed to doing everything we can, to make hotel staff feel valued, recognized, and empowered.
The best way to do that is by applying best practices, constant training, and adhering to something bigger than one employee, regardless of its job title. A philosophy.
We wholeheartedly believe that hoteliers are a breed of their own, and through the steps mentioned anyone can enjoy the truly wonderful world of creating unforgettable memories.
What is next?
The aim is to create a community, and interact with its members to share ideas, and fully understand and cover their needs.
We will be sharing short articles every week on our web and social media pages, to give insights on the industry and proven methodologies.
Feel free to subscribe and spread the word.