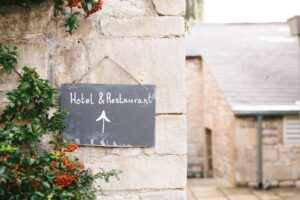 How to get your hotel ready for the fall season?
Fall and autumn can be difficult season for hotel and hospitality businesses to face. The summer has just died down and people have either spent their vacation days or are waiting for Christmas to come around. However, there are plenty of opportunities to seize during the fall and autumn. As leaves fall and temperatures drop, people might be looking for a quick getaway to a romantic hotel. This is also a great time to provide more training to your employees.
Your main goal during any slower season should be to create occasions for visitors to take advantage of. You should also aim to make your hotel the best it can be by tending to those unfinished tasks that getaway because of hectic schedules and other pressing needs.
hosstinn is going to provide you with a list of the best suggestions for hotel management to focus on during fall and autumn. Take from this list what suits you best and make the changes your own. So, let's get started!
Standardizing seasonal change in your hotel
One of the best organizational tools you can focus on during the low season is standardizing. This means making what's messy and improvised into an orderly program that follows a standard of objectives and performance.
By achieving standardization, you can focus on achieving even higher business goals, and leave the menial tasks on autopilot. This will also allow for you to be confident in knowing that everyone in your hotel's operation is clear on the tasks that need to be performed and how to do them.
Preparedness leads to employee retention
Not only does standardizing lead to a better functioning team, but it also means that you can keep those team members longer. A prepared standardized process leads to better onboarding and employee adjustment, for example, 23% of employees are more likely to stay if the company has a clear process in place. A functioning team is central to success, especially considering that it takes around two years to train new employees to get to the same level as former employees.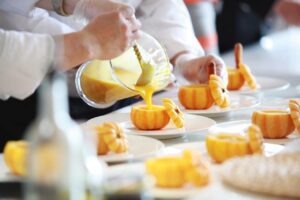 Training the hotel staff during the low season breaks
Using the low season to organize training is one of the best ways to make the most of that time. Training staff is one of the biggest game-changers in the hotel industry. The satisfaction of your visitors is guaranteed in part by well-trained staff, and that good experience rating is what leads to more business. Training should be a focus area for you no matter what and especially when you can make it work well with your employee's schedules during the low season.
Training is also key for employee retention, as 87% of millennials in the workforce say it's essential for a job position to have this type of development opportunity. Fortunately, you have several remote and digital education tools at your disposal that can make staff training easy to manage and cheaper.
5 tips for boosting hotel bookings in the fall season
We've discussed internal changes you can take on to get great results out of the fall season, now let's take a look at what you can do to boost bookings at your hotel during autumn or any point during low season.
Reach out to loyal guests 
Send out a newsletter, special promo code, or fall invitation to your most loyal guests. This can work as a reminder and motivation for them to book a weekend getaway or an unexpected stay. Adding promo codes is always going to help, but also be mindful of your designs and copy for maximum effect.
Extend promotion and packages 
If you had a special summer promotion or package going, then keep it. There are always people who did not take days off during the sunny months that are just waiting for the best excuse to book a stay. That excuse can be your promotion or package. Rebrand with a fall theme and carry on!
Keep your eye on the calendar for special deals 
One thing that happens immediately after every holiday is that we start to plan for the next one. That's the way it should work in your hotel, only you need to be planning 3 or 4 holidays in advance. Once you know the dates, you need to create a campaign, promos, social media posts, and everything else. Get yourself a calendar with all the holiday dates, research which ones have the most travel, pick the ones that are worth the effort, and go for it.
Extra tip: always keep an eye out for conferences coming to your location, big or small.
Collab with another brand or business 
Getting together with local brands or businesses to offer partner deals can drive up business in a big way. Guests love this because you are offering not just your hotel as a benefit but also an extra perk, like a tour of the surrounding area or amazing coffee each morning.
Go for groups 
Targeting groups is one of the best strategies to drive hotel bookings during the low season, and there are plenty of ways to do so.
Create special packages for groups
Target conference attendees
Offer discounts for booking and holding meetings at your hotel
Create targeted campaigns on Google Ads and other platforms.
If you wish to improve your standards and the quality of service, register now to become an #Innsider.