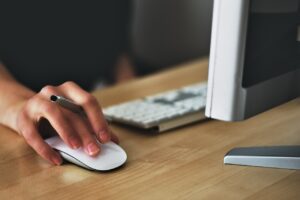 So, you're building the ideal hotel staff? Or perhaps you are looking to improve your skills for a better position? Whatever the reason you are looking for these characteristics, remember that the time and energy you put into developing them is what will have the most impact.
Working in a hotel is demanding and strengthening these character traits could help you and your team reach goals. It can also improve your professional profiles in the long term. Plus, they are a good judgement scale for evaluating staff and creating company values.
Why do you and your team need to work on these?
There is no better time than today to go after what you want, and for hotel work it is an especially interesting period. As the first signs of recovery from the COVID-19 restrictions begin to show, the industry will need qualified employees to meet their workforce demands. Here's what can help you and your team stand out.
Invest in training 
If you want to work in hotels then you will need to keep your skills and knowledge up to date. That means constant training, attending courses and being flexible enough to adapt to new standardization processes.
The good news? You can get your training online and easily. Having access to tools like hosstinn gives hotel workers more opportunities to advance in their professional knowledge in a more flexible manner. No need to travel with the team for expensive courses, or dealing with scheduling in-person classes. With online training, you can learn from the office, on your commute, etc. You are good to go with just a computer and internet connection. Plus you get inside knowledge, access to industry experts and updated content.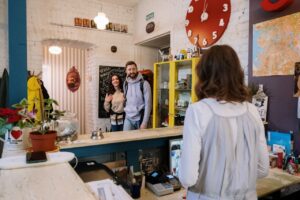 People skills
This is a must have! Extroverts rejoice, hotel workers need to interact with people all the time. We mean it. This includes guests, future clients, people attending events, a guy having a drink at the lobby, and your own hotel department team. You have to come prepared to communicate effectively, be patient, cordial, and attentive when you are on the clock.
This is especially important for customer facing positions in these departments:
Front desk
Food and beverage
Services management
Get your team familiar with common conflicts that come up and how to resolve them, create a mentorship program so new employees can learn from the more senior staff, and make sure there is a guide on how to interact with guests.
Quick on their feet
There are a lot of fires to put out when it comes to this industry, and as great hotel managers know, the best employees are those that come up with solutions quickly. Being able to figure out the appropriate response to a guest's request, or how to mitigate a complaint, will make your days so much easier.
The best thing is this skill is strengthened by working on the others mentioned before. How does that work?
More training → makes you more aware of solutions
People skills → help you communicate better with guests and team members
Note: quick on your feet does not equal recklessness. Take a breath, think of an answer and get to work. When in doubt, a simple "I'll be happy to ask management about that" can get the job done too!
Culturally aware
One of the best and most enriching aspects about working in a hotel is that you have the opportunity to interact with people from all over the world. This brings with it its own set of benefits and obstacles.
On one hand, you get to grow your experience and world view.
On the other hand, you have to make the effort to be culturally aware. Because people from different parts of the world will have different customs, ways of communicating and gestures, you need to be mindful when you interact with them.
Best way to deal with this? Briefing the teams on important guests arriving and how to treat them, and maintaining a protocol for handling clients.
Can stick to routines 
Hotel work relies heavily on standardization in order to reach efficiency, that's why it's important for hotel staff to be able to stick to routines. Doing processes the same way over and over again is how hotel teams keep things running smoothly.
Whenever you get overwhelmed by routines, just think of how exhausting it would be to have a different process for everything in a hotel that can host over 200 guests at a time, or even just 20. Service standardization and routines save time and make hotel work easier.
Ability to work with a team
Teamwork makes all the difference in the hotel industry. It's only through a joint effort that things go well. For example: the front desk can't send guests to their room if it's not clean, and cleaning can't start if there is not a checkout time enforced by the front desk, and so on. Learning to work well in teams will improve your career and your hotel's performance over time.