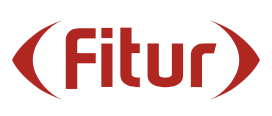 Fitur is the global meeting point for tourism professionals, and is the leading trade fair for the receptive and issuing markets of Latin America. Five days of meeting that translate into hundreds of opportunities to make contacts, present projects and close business opportunities. The great diversity and talent that it collects makes it possible for totally specialized areas to exist within it.
If you do not have a stand, and you want to get the most out of your visit, we remind you to prepare with our guide.
1) Who should go to FITUR?
Your team must consist of at least 2 people. This way, your team members can back each other up in tough situations. Your team must:
Know the product in minute detail
Be willing to talk (outgoing, easy-going, charismatic and memorable people are the best choice)
Have a good command of Spanish and English and flexible narrative skills.
Have at least one sales person who will continue to work with the leads collected after the conference.
Typically, your sales and customer support team will best fit this description: they know all the ins and outs of your product, and they know what concerns they need to address to win the customer over.
2) Prepare the material
What you bring as a gift/souvenir to the conference will help you attract people's attention and stay on their minds when you contact them again. However, there is a question of costs, effectiveness and ease of transport.
We have seen everything in this and other fairs. In our experience, take something small, that is easy to store, and that you will use or see in your day to day. For example, stickers, laptop camera protector, different pencils or pens, etc.
The things that will improve with the participants in the coming months will help people to consider your company when looking for future solutions.
Look around you, surely you have some item from a fair that you still use. If you need a service, I would use yours rather than find a new provider.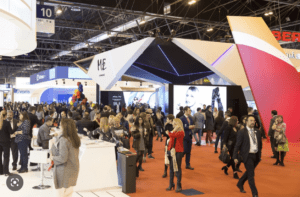 3) Contact
The Fitur organization makes a connection platform "LiveConnect" available to all attendees. What a great opportunity!
Take the opportunity to contact at least two weeks in advance all those people who are of interest to you, or affinity. Introduce yourself, present your company or solution. Organize a face-to-face meeting at your stand or somewhere within the venue, easily accessible. Send them an invite to their calendar within the app.
4) Prepare your demo
A product demo is very important. Keep it short, exciting and informative. Having a laptop, tablet or mobile with the presentation of your product is essential.
This will help you present your product in the most complete way, especially if it is complex or if you know it can have a strong visual impact.
Remember that your prospects will hear dozens of presentations throughout the conference. A good demo is a great way to stand out. Keep in mind, though, that your demo will never follow the same script, as the people you present it to will have different pain points and needs; write them down and change your demo accordingly.
Do not rely on the Wifi provided by the conference. Make sure you have something to show, even without an internet connection.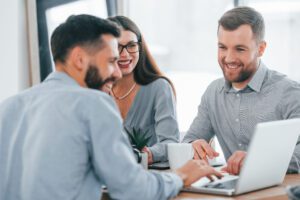 5) How to dress for FITUR?
We are in an event of a sector, still very traditional. But remember, the fundamental thing is your comfort and being able to meet your goals.
Focus on wearing comfortable shoes and carrying light loads. Your feet will be on fire by the end of day 1. Outfit-wise, it can go a few ways: classic, as most of your clients will go; business casual, if it fits with your personality and company philosophy; or exaggerated, if you want to attract attention.
That being said, most attendees opt for a business casual look with simple slacks/jeans or a skirt, (corporate) T-shirt and blazer.
6) How to get the attention of your targets
It is difficult to attract attention when you do not have accompanying accessories, as is the case when you have a stand. But here are some tips you can use:
1. Make eye contact with the person you want to talk to and move closer once done.
2. Take advantage of a time when they don't have many visitors. Remember, they are also there to publicize their product.
3. Wear flashy outfits, as far as possible, but always in keeping with your personality and that of your company.
4. The contact work you do with people in the previous weeks is important to close face-to-face meetings.
5. Start your conversation in an unusual and creative way. Remember, you only have 30 seconds to hold their attention.
7. How to make a great pitch
Thorough pitch preparation favors a 50% success rate in communicating with potential customers. You should be able to answer the following questions:
What is your product about?
How are you different from your competitors?
What is your price and why is it so low/high?
What are the features and how do they work?
How can I benefit from using your product?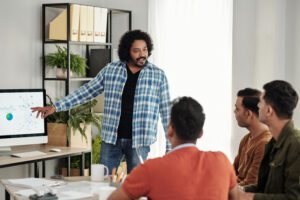 You should also be prepared for uncomfortable questions, such as those about your biggest weaknesses or competitors. You can prepare by knowing your own strengths and weaknesses, as well as researching your competitors' weaknesses through reviews and forums.
The secret to making a meaningful connection first is to ask your listener, "How was your walk to the conference? Where you stay? Why did you come here? What is your business?", etc. This will not only help you tweak your presentation to have a better chance of converting, but it will also show the other person that you're there to talk about them and how you can help solve their problems.
8. Take advantage of every networking opportunity
At the conference you can network anywhere. Take advantage of any opportunity: when you eat, when you sit down to rest, etc. Somehow, the unintentional connections outside of booths stick with you because of their informality.
Of course, being present at a conference of the magnitude of Fitur can bring you many benefits. From the contacts that you can make, the knowledge that you can obtain through the different chats, the rewarding experience that it is to see how the tourism sector continues to move and grow, … But of course, it will help you increase the recognition of your brand .
The conference will also motivate you and your team. After an event like this, your perspective changes: you are empowered and motivated. Why? Because you get real life feedback from your users and customers.
We encourage you to live this event with the most genuine intention of meeting great professionals and sharing knowledge and experiences.
hosstinn will be present on Fitur 2023. Contact us to meet!