It is likely that you have heard about Upselling and Crosselling on many occasions, so you may have asked yourself: How can I apply these techniques in my hotel to generate more income?
Today I want to tell you on what consists of this marketing strategy and how you can apply it to obtain, as a first result, an improvement in the experience of your clients and secondly, increase your income and profits considerably.
Let's start by defining what is an Upselling
An Upselling is a sales strategy that applied in hotels can significantly increase your income. It consists of increasing the cost of the purchase of any product or service, offering at the time of its acquisition one of greater value.
In the case of hotels, it consists of offering to the clients the possibility of improving their experience by obtaining a higher category room by paying a supplement.
You can also offer complementary services to this purchase, so that their stay is much more complete and they can acquire everything they need in one place.
Let's see a practical example with numbers
You have a hotel with 100 rooms, of which 70 are standard and 30 are Junior suites.
Usually, the rooms that are sold first are the standard ones, and this can be due to the price and the motivation of the client to travel.
Suppose that the following figures, these have been your sales for this month of the standard rooms without having the Upselling implementation yet.
Example of Sales Without Upselling implemented
1st. Week, 350 standard rooms sold at €100 each x 3 nights = €105,000
2nd Week, 300 standard rooms sold at €110 each x 2 nights = €66,000
3rd. Week, 320 standard rooms sold at €97 each x 3 nights = €93,120
4th Week, 280 standard rooms sold at €105 each x 2 nights = €58,800
Total income for the standard rooms per month: 322.920€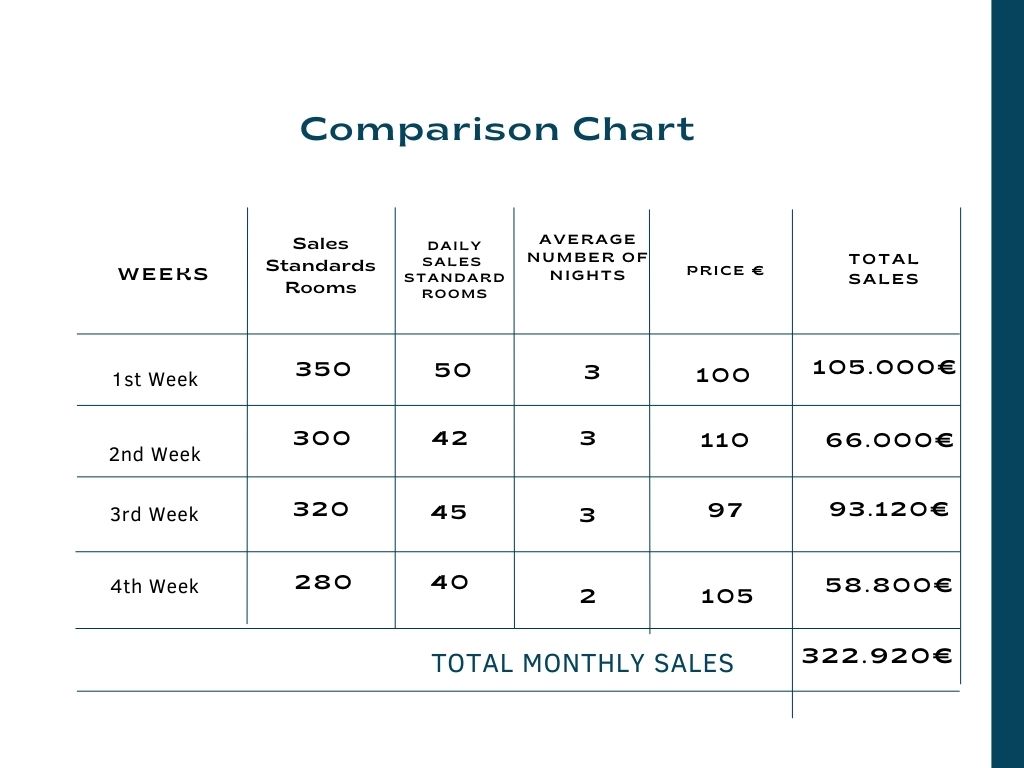 Example of Sales with Upselling implemented
Now let's imagine that we have made 30 upgrades to Junior Suite where the client paid €20 per night additional to the sale price in his reservation:
1st. week – 210 Junior Suites sold at €120 (€100 + €20) each x 3 nights = €75,600
2nd week- sold 210 Junior Suites at €130 (€110 + €20) each x 2 nights = €54,600
3rd. Week – 210 Junior Suites sold at €117 (€97 + €20) each x 3 nights = €73,710
4th Week – 210 Junior Suites sold at €125 (€105 + €20) each x 2 nights = €52,500
Total income from Junior Suite rooms per month: 256.410€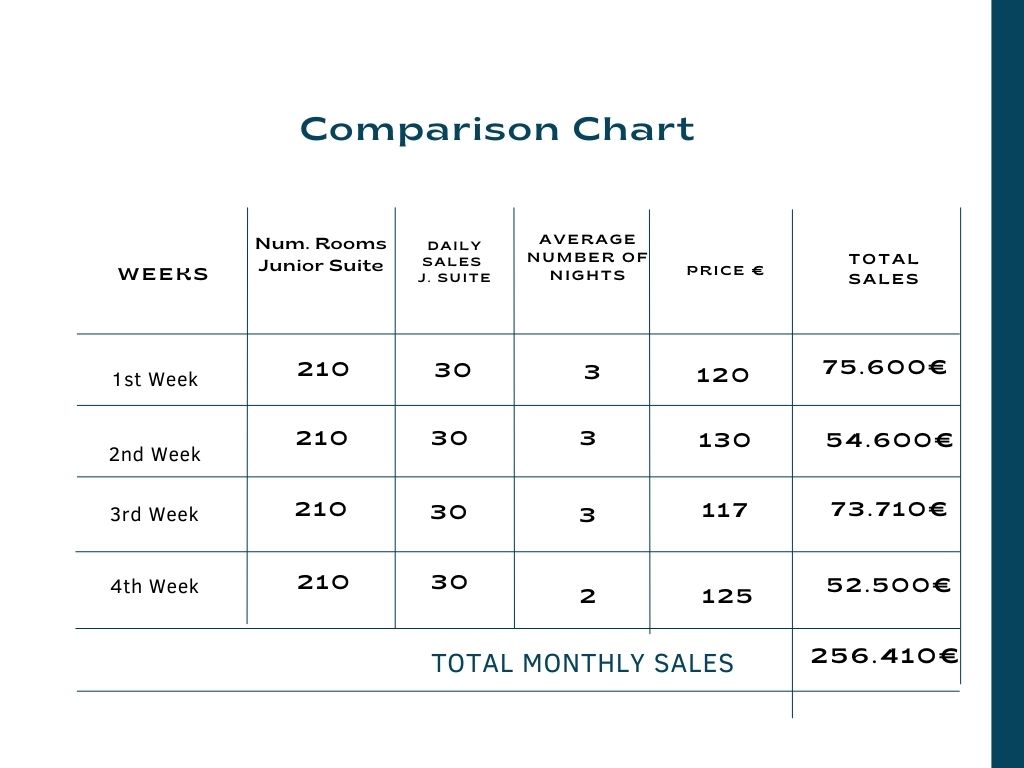 Now let's see what the increase in your income would look like by adding the sale of the standard and the Junior suites: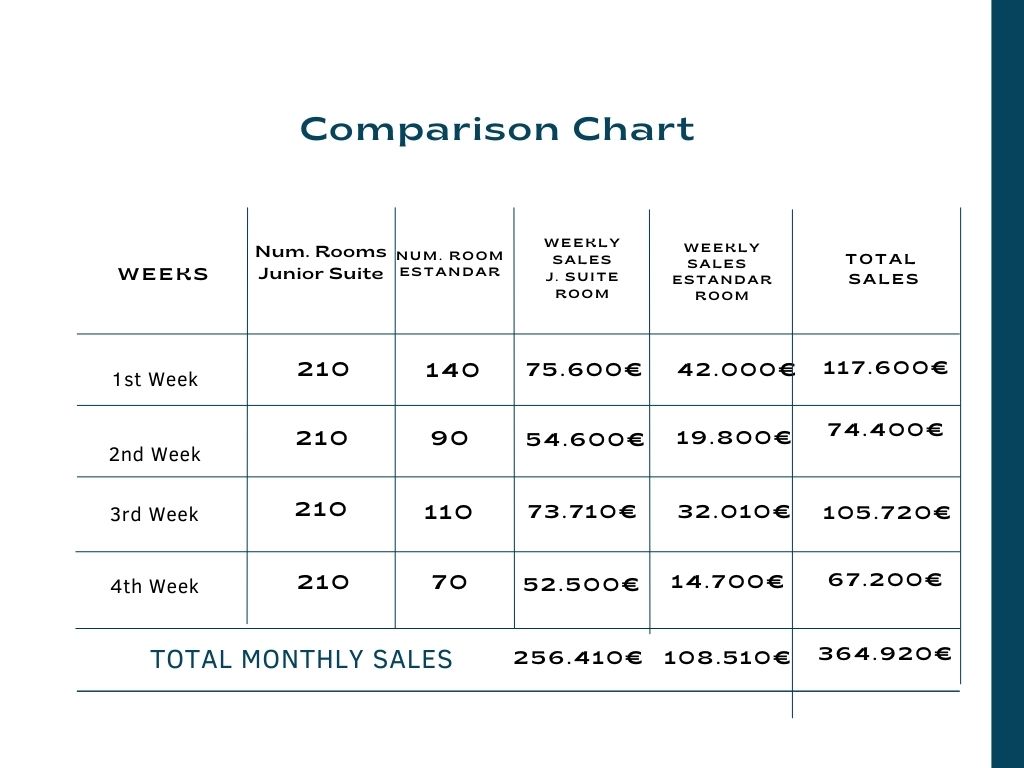 In this example, we see that in a month when you sell 322.920€, if you apply the Upselling strategy as we saw, offering your clients to change to a Junior suite room paying a supplement of €20 more per night, you will obtain an increase on sales of 42.000€ (364.920€ – 322.920€). It corresponds to an increase of 11.50% in sales in just one month.
Imagine what you could achieve a year, if you had a rough increase every month.
Conditions to implement Upselling
There are some conditions that the hotel must meet in order to implement this tool and increase its benefits, among them we have:
Have several types of rooms in the hotel. It allows you to "play" when thinking about improving benefits.
Train reception and restaurant's team in the sale of additional products and services. The idea is that they can detect sales opportunities in their interaction with customers.
Incentivize your team with commissions for the sale of these services.
Have complementary services or create new ones, so that you can offer them to your clients.
Have the necessary tools PMS (Property Management System), Booking Engine, etc. where you can promote these advantages for your accommodation.
Some Advantages of Implementing It
Apart from a significant increase in your benefits you can also:
Create better experiences for your customers in the hotel.

Publicise other additional services that you offer in your property such as airport / hotel / airport transfers, city tour, shopping tour, excursions, among others.

Improve the salary conditions of your collaborators, introducing them to an incentive plan, in case they do not have one.
Involve the entire team in achieving the objectives of your establishment.
Obtain a constant increase on income.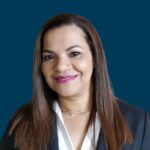 This post was created by Nayibis Garcia, CEO of Revenue & Marketing Solutionsand tutor of our exclusive course of Revenue for hospitality.
Their team can help you create personalized Revenue Management and Hotel Marketing strategies for your establishment.